The Best Custom Umbrella Models To Engage Your Active Clients
Let's be frank about it! Useful promotional items are the best ways to get your message out and enhance brand visibility. If you have an outgoing and physically active crowd, custom umbrellas will make a great gift choice that matches their life style. Get your logo and message imprinted on these everyday items to motivate your outdoorsy prospects to become more physically active.
Custom umbrellas are great for camping trips, angling holidays or beach fun as the case may be. These are practical and popular across all audience groups irrespective of their age or gender . The incredible selection is another big plus of custom umbrellas. From mini umbrellas to golf umbrellas inverted umbrellas and patio umbrellas, there is something for every call.
No matter where the outdoor fun takes your prospects, custom umbrellas will make great handouts. The best part is that the generous imprint space on the canopy will give a lot of creative scope to place your artwork, taglines or message in style to engage and inspire your audience and draw them closer to your brand.
Umbrellas have evolved to be party props and style accessories these days more than just a piece of weather wear item.  It has come a long way from its humble origin of plain black and bland models to colorful and innovative models that bring together fun and functionality in equal measures.
Golf umbrellas are a popular model especially appreciated by those who dare to be different and stand out in the crowd. Originally designed for the golf greens, these brilliantly colored massive umbrellas are a hot favorite among the fashion savvy. Customize these with your logo and design and distribute them to customers and employees, you can expose your brand both in an efficient and tasteful way.
Antiwind umbrellas with print are great for those who enjoy longer walks along the beach thanks to its vented design and antiwind features. Designed to withstand even high speed winds, these umbrellas are available in a variety of colors and sizes as well. These handy umbrellas can be distributed during all types of sporting events as they are appreciated by everyone!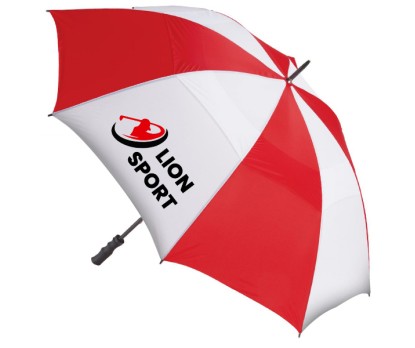 Custom inverted umbrellas are useful models for everyone who likes to go out in the rain or enjoy their favorite game even in drizzles. It will keep the rain water within the folded umbrellas without messing up the car or home floors when these are folded.  Choose from a range of colors and   trendy models like leopard printed models that will give a wild streak to your outdoor promotions. You will love the attention that your message will get on these innovative brollies.
Need more tips? Reach out to your product experts or visit our blog to stay on top of the trends in custom umbrellas.