Custom umbrellas – Great for business promotions, golf and corporate events!
Umbrellas are practical and popular handouts with a high perceived value. By incorporating these useful products in your marketing plan your business is guaranteed to get a great level of exposure. With massive print space and so many different designs and colors, you can easily find a custom umbrella that suits your theme budget.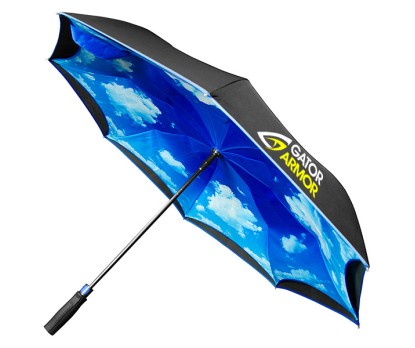 Umbrellas are long lasting and enjoy a high retention of over 14 months and more. So you'll benefit from years and years of great exposure for your business! The best part is that umbrellas make high utility handouts during all four seasons. While your recipients are equipped with a functional umbrella you get persistent brand impressions even when bad weather brings most outdoor promotions to a halt!
So, why not make use of this wonderful opportunity by getting custom umbrellas decorated with your brand and message? Here are our top branded umbrella choices that you may find interesting
Mini Umbrellas
Ideal for people on the go, , mini umbrellas fold down to a small size ideal to fit into a small purse or bag. When your recipients take these umbrellas wherever they go, your message will get a great brand display and new leads.
Auto open umbrellas
Make sure that your clients and customers are always well prepared for bad weather woes with these handy auto open umbrellas that can be closed and opened at the press of a button. The umbrella easily folds open for the convenience of the users. Get ample attention for your brand by getting it imprinted on these custom umbrellas that are one of our best- selling models.
Vented Folding Umbrellas
This compact and wind resistant umbrella that can fit into a backpack will make a travelers delight. These small handy folding umbrellas are perfect for the city streets, public transport and even camping or hiking tours. The anti-wind design will make this umbrella a reliable choice in tough weather conditions while the auto open mechanism will put the umbrellas spring into life at the push of a button. Make use of the brilliant colored canopy background to make your promotional branding stand out.
Inverted umbrellas
Designed to keep the users safe from rain and a rain soaked umbrellas that could leave a trail of water over them every time they close it, inverted umbrellas are a boon to everyone. Choose from a wide range of colors and prints including sky and cloud pattern that will create a magical effect in the minds of anyone who sees it.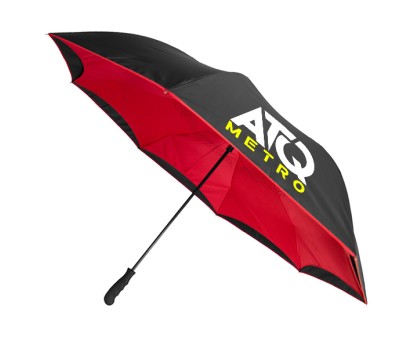 Looking for more? Explore our complete line of custom umbrellas as there is an umbrella for everyone's needs and budget.