Custom Umbrellas Will Make A Perfect Halloween Gift For Marketers
Halloween falls on October 31st, the last day of the Celtic calendar. Originally observed as a pagan holiday, honoring the dead, Halloween dates back to over 2000 years and is one of the oldest holidays that is still celebrated. Hugely popular, Halloween draws huge crowd of people celebrating the day with costume parties, trick-or-treating and theme parties and a perfect time to remind people to stay away from superstitions involving ghosts and vampires. For most people Halloween is just a great time to gather around and have some fun and food before winter sets in and is often celebrated with no reference to pagan rituals.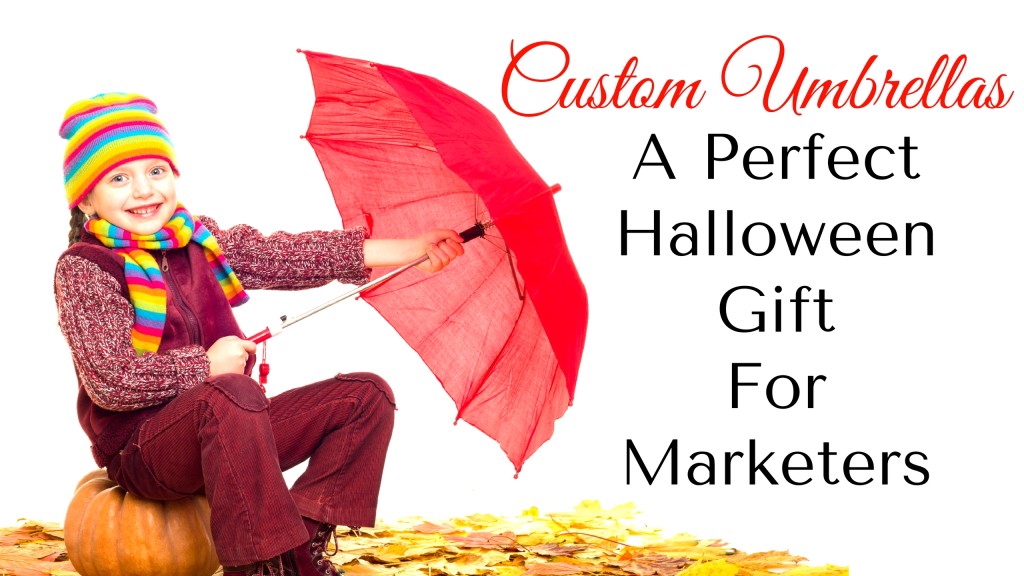 Halloween offers incredible promotional opportunities for marketers and to connect to a large audience. If you are looking for a perfect handout for brand building during Halloween, you should try custom umbrellas this year. Surprised? Apart from being haunted house décor items and a smart way to make umbrellas witches, custom umbrellas will make a great billboard for your brand during this festive season. You can even choose orange colored umbrellas as Halloween gifts that will match with the fall season décor and the pumpkin lanterns around.
Here are some of the umbrellas that can be considered
Bubble Umbrellas: Transparent and pretty like a soap bubble, these custom umbrellas make wonderful festive gifts and Halloween handouts. everyone would love to wear these unique umbrellas that will let them see the beauty of rain or the brilliance of fall season without getting wet. Personalize these with your brand and message; don't forget the Halloween symbols of goblins or creepy crawlies to make it complement with the theme. This crowd pleasing umbrella will bring you long term returns against the investment.
Mini umbrellas: The small and compact size coupled with the brilliant color choices will make it a brilliant Halloween gift. Designed for daily use and easy portability, these logo items will ensure maximum brand exposure at easy rates during Halloween season.
Golf Umbrellas: Big and bold, golf umbrellas are born head turners that will never fail to generate interest. Choose golf umbrellas in contrasting color profiles or vibrant colors to grab easy attention of anyone who sees it. People will love using them for a very long time during beach holidays, golf weekends and festivals and fairs and your brand will enjoy a panoramic display. Your message and Halloween greetings on these will get an impressive facetime for sure.
Antiwind umbrellas: These dare devil and sturdy umbrellas are not scary of the vampires on the prowl nor the fall season gust and gale. These long lasting umbrellas will make a perfect Halloween gift this year, which your recipients will cherish for a long time. Functional gifts like umbrellas have always been popular custom gifts and by combining the Halloween theme, you are only adding a fun twist to your brand building exercise. Go for it; and do let us know your experiences of using custom umbrellas as Halloween gifts