How Premium Promotional Products like Umbrellas Can Expand Your Business!
Being budget friendly in your business promotions may not be a sustainable option for businesses especially when they have to reach out to high value clients and employees. Though cheap promo handouts can be distributed in bulk to get their brand seen by as many people as possible, if you have a targeted promotion in mind, nothing can beat the charm of gifts like custom  umbrellas with a high perceived value. It will create a positive image of your brand in their minds and enhance the value and repute of your brand in the minds of your audience.
Studies show that around 55% of Millennial's prefer premium products with high quality standards. Imprinted umbrellas match the luxurious lifestyle of people and cater to their demand for a certain level of quality in their lives.
Umbrellas enjoy a cult status and  is loved by people across the globe, including celebrities and sports personnel, which gives it an added rag of fame. Your corporate design engraved on the massive canopy of umbrellas will highlight the style and good taste of your brand. Put on your creative caps to think of interesting taglines, artwork or logo to make your imprinted umbrellas stand out in style.
Choose from a wide range of models right from the standard umbrellas to the quirky reverse umbrellas or the full color imprinted umbrellas. Combo models like flashlight umbrellas or speaker umbrellas will make a great addition to any marketing plan for sure.  Choose an appropriate model that matches your promotional theme and budget and you are all set for a successful campaign.
Another bonus of using premium promotional products like umbrellas is that your customers will retain these handouts for many years, because of its utility and durability. Value added giveaways like umbrellas create positive emotions and a strong rapport among your audience.
The high level of portability  to take anywhere on the move will make  umbrellas a proven medium to get your message out into a wider audience. Choose from a wide range of popular models like double canopy and antiwind umbrellas that will ensure long term performance and consistent brand impressions at one time investment.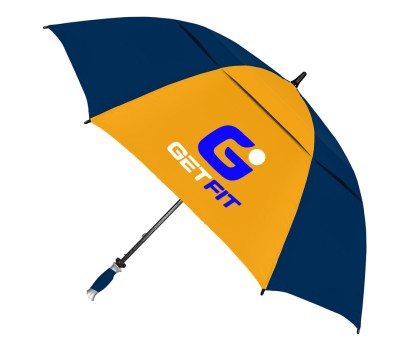 Beyond the awesome first impression your logo  on these eye catching umbrellas, your recipients will love the practical utility of these giveaways that come handy during both rain or shine.
Designed to last long and perform seamlessly, promotional umbrellas will easily pass all tests with flying colors. Browse our exhaustive collection of custom umbrellas to choose a model that matches your needs.