Custom Umbrellas –Enjoy Panoramic Brand Display Rain or Shine
Outdoor promotions are often dependent on ideal weather conditions. However, when you have high utility handouts like custom umbrellas, you are rest assured of  a perfect outdoor campaign even in the worst weather conditions. Get maximum visibility for your message with these everyday items of imprinted umbrellas that boast a bespoke design that complements your company's brand aesthetic.
The massive canopy of umbrellas will offer a creative canvas to highlight your message artwork and logo and earn maximum visibility. Ideal for all types of business niches an imprinted umbrella will keep your logo right above everyone on the streets while helping you to get through any marketing storm!
Everyone will like to have an umbrella on hand at home, office, car, or in  golf bag to be well prepared and ensure peace of mind.Logo umbrellas will keep your clients and employees safe from elements and the unexpected  weather changes that they need to endure. Handing out an imprinted umbrella will not just keep your message in the forefront of your clients minds but will make a high visibility billboard for your brand as well.
Custom umbrellas are available in various models including golf umbrellas, fashion umbrellas, patio umbrellas and more. Versatile and practical, custom umbrellas indeed will make a great addition to your promotional plan. You can use it effectively in any situation and branding context.
Something special for everyone
Gone are the days when umbrellas used to be boring black brollies that were designed just with a functional purpose. These days, umbrellas have evolved to be more of a fashion accessory that will complement the modern life style of the users.
Here are some interesting models that you will find interesting.
Full color golf umbrellas that create a dramatic display for your brand or vented golf umbrellas that make a reliable choice for the golfers in the high windy conditions of the greens are perfect gift choice for the golf loving audience. Your logo and message imprinted on these will get a lot of attention and appreciation.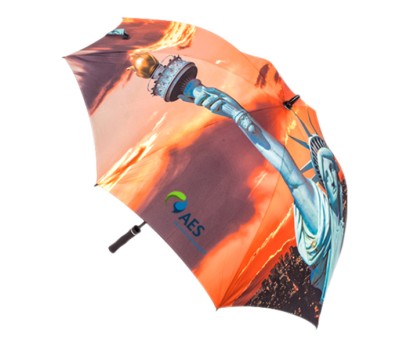 Reverse umbrellas are trusted companion of everyone during rainy season as these are designed to open and close in reverse thereby keeping the wet side away from the users. As the rain water remains within its folds, these umbrellas wont leave a trail of water on the car or room floors every time someone enters the room with a wet umbrella.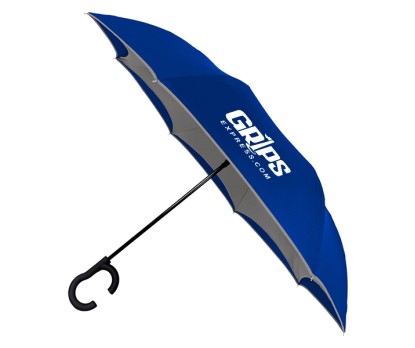 Reports show that most consumers prefer custom gifts that are functional rather than novelty handouts. Umbrellas thus score a perfect 10 in all these departments, making it a top favorite of both the recipients and the businesses alike. Explore our complete line of custom umbrellas to choose a model that matches your theme.