How Promotional Umbrellas Can Enhance  Your Brand identity
Umbrellas are often overlooked as marketing tools. Not many people know that custom umbrellas are the most retained custom gifts with an average retention of 14 months and more. So, just imagine the exposure your brand imprinted on these will get during its shelf life. Umbrellas are not only useful for protection against elements, but make a  great means of mobile promotion for businesses.
Here are some of the most trending umbrellas that will make a value addition to your gift list.
Auto open  umbrellas
The automatic opening feature makes it a convenient choice for people on the move. The huge span of auto open umbrellas folds down to a handy size, makes it perfect to fit in your purse or bag. Portable and trendy , these umbrellas are  attention grabbing. Imagine the visibility that your brand imprinted all along the canopy will get on a long term basis.
Premium Executive Umbrellas
The sophisticated design and business-look will make corporate umbrellas truly popular. These large umbrellas feature sturdy shafts and comfortable handle for easy grip. The fiberglass ribs makes it both lightweight and windproof. This is truly a businessman's umbrella. Your clients will never fail to notice the dynamic color pattern and  your logo on the canopy that completes the look of these umbrellas.
Inverted umbrellas
This umbrella takes novelty to a new level. Designed to keep the rain water well within its fold without spilling it over, inverted umbrellas will not just keep your audience well protected but safeguard the floors of their cars and homes from getting wet with rain water when they get in with their wet umbrellas. No one could deny that it is a great handout;  so take the leap and brand these umbrellas right away with your logo.
Hands free umbrellas
Designed by keeping the needs of the multi tasking modern community, these versatile umbrellas are a big ticket among promo umbrellas.  The loop handle will make it easy for your recipients to manage the umbrellas with ease while holding phone, book or bag. Offered in a range of solid colors, these umbrellas will ensure more value for your promotional dollars.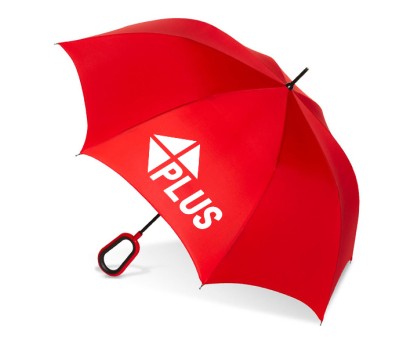 Antiwind umbrellas
An umbrella that gets toppled over by the raging winds is a night mare. Make your recipients feel reassured by handing out these reliable antiwind umbrellas that are designed to withstand high winds and gust. Your recipients will have a sure fire way to stay safe in bad weather while your brand gets a panoramic display even in hostile weather conditions.
Need more? Browse our exhaustive collection of custom umbrellas to choose a model that suits your needs