Best Branded Promotional Umbrellas on a Budget
Custom umbrellas may not be as economical as many other promotional items. However, umbrellas are available in every price rate that suits your budget.  Here are some budget friendly models that you will find interesting.
Mini umbrellas
These small travel size folding umbrellas are perfect for the bag or public transport. The wind resistant design make it high utility items for every day purpose and for  rough weather conditions. The automatic opening mechanism makes it a smart choice for people on the go. Offered in various colors and prints, custom umbrellas make a great marketing tool for themed promotions and seasonal events.
Mini 37 inch Arc Travel Umbrellas w/ Case  are the best companions of people on the move. Easy to pack and carry, these light weight and handy umbrellas will keep your recipients safe from weather elements during trips  while ensuring the best returns on your investment. The umbrella can be stored in a matching colored case.
Clear Umbrellas
With a clear protective dome, this umbrella has a dramatic charm about it. It protects your recipients from the rain whilst still permitting them to see outside. The 360-degree perspective enjoyed by these transparent umbrellas makes it a great talking point for passers-by. The sleek design and the transparent canopy will give a fairy tale charm to these umbrellas!
Standard umbrellas
Versatile and perfect for all occasions and age groups, standard umbrellas have a light weight design , which makes it even more popular. This premium range of umbrellas  offered at a budget price will make your top choice in promotional items! Due to its wide span, this umbrella  will grab easy attention towards your logo imprinted on its canopy.
43 Inch Arc Customized Manual Folding Umbrellas Adorable, affordable and durable, these simple umbrellas offered in a bevy of popular colors will fit the bills of every budget marketer. You can easily save on bulk orders of these custom manual-folding umbrellas to get the best deals and enhance your brand identity alike.
42 inch Arc Custom Logo Umbrellas  These polyester umbrellas that fold down to 9" is a popular choice for people on the go. Offered in a wide range of colors, these umbrellas are easy to customize to meet your branding preferences.
60 inch Arc Customized Golf Umbrellas w/ 17 Colors: Offered in a range of vivid colors , these imprinted nylon golf umbrellas will not only draw public attention in the packed golf arena, but even beyond. This manual open umbrella is distinguishable due to its metal shaft and wooden handle, and shrinks to size 40″ on closing. Designed to withstand the elements with ease, these umbrellas offer the best value for your money.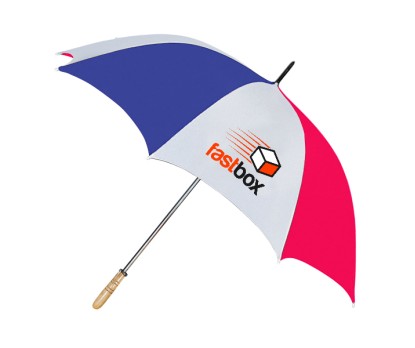 Need more? Browse our collection of custom umbrellas and choose models that match your budget.