How Promotional Umbrellas Can Enhance Your Brand Presence
Most people may take umbrellas for granted till they actually need it! Handouts like custom umbrellas are not only useful for protection against sun and rain but enhance the outdoor style of the users while serving as a mobile promotion for businesses.
Promotional Umbrellas are versatile handouts for all types of outdoor events, festivals and fairs. Your logo and message imprinted on these logo items will get a panoramic display wherever your recipients go. Versatile and highly practical, logo umbrellas will fit into any promotional theme. Whether you wish to use it as promotional giveaways, fund raising items, contest gifts and more, custom umbrellas will make well appreciated giveaways that are hard to miss.
 Auto open and close umbrellas
These umbrellas feature a convenient automatic opening mechanism and will fold down to a handy size, making it perfect for the bag. Offered in a bevy of eye catching colors, custom umbrellas imprinted with your brand and message people will definitely put your brand on a wide angle display.
Wooden hook umbrellas
Wooden hook umbrellas that exude a sophisticated, business-look will make a great choice as corporate gifts. The sprawling umbrellas available in various vibrant colors feature a classic wooden handle for easy grip while the light weight and wind resistant features of these umbrellas will round off the profile of this businessman's umbrella. It is impossible for anyone not to take note of the solid colored canopy of this umbrella against which your logo imprint will stand out in style.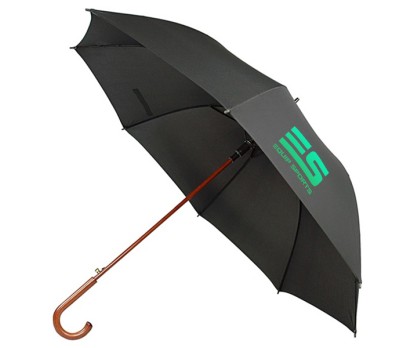 Kids umbrellas
Kids would love to have their own umbrellas instead of being crammed under a single  umbrella. These vibrantly colored umbrellas will tug the hearts of kids and will turn out to be their favorite  for a long time. Light weight design and safety caps are some of the kids friendly features of these umbrellas. Make it interesting for the kids to use quite often by adding a cute artwork that will easily stand out against the contrast background.
 Telescopic umbrellas
Light weight, travel size yet functional, these pint sized umbrellas make a great choice for people on the move. Offered in a palette of colors, these umbrellas fold down to a compact size to fit into bags easily.
Ideally the promotional umbrella that you choose should be handy enough for regular use to ensure consistent impressions. Models like Telescopic umbrellas that your audience can actually use will get a lot of appreciation among your clients and employees for sure.
Explore our complete line of custom umbrellas to choose a model that matches your promotional needs.