How To Enhance Your Outdoor Promotions With Custom Umbrellas
The best promotional campaigns should be both budget friendly and effective. There is a wide selection of branded merchandise to ensure effective advertising. However, custom umbrellas enjoy a special place among promo gifts as it keeps your brand recognized whatever the weather is.
Imprinted umbrellas have a huge edge over other logo items because of their usability. These are used several times a week not just to stay safe from bad weather but also to enhance their style statement. Plus, umbrellas offer long shelf –life as these are retained well over 14 months or more, during which it makes consistent impressions and ensures effortless brand recognition and exposure.
Imprinted umbrellas serve as rolling billboards as these reach out to a fresh audience every time.The enormous imprint space on the canopy is undeniably the trump card of umbrellas . You can get your logo and message imprinted on the canopy to ensure that your message gets a perfect display.  Every time your recipients use these umbrellas,  your logo captures the attention of the passersby .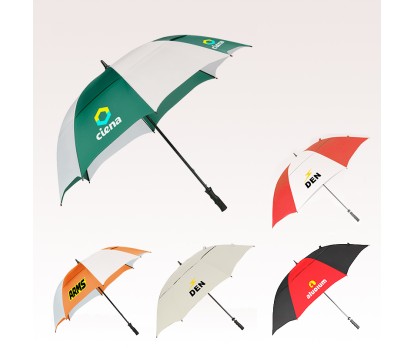 With a wide range of options on offer several companies continue to invest on promotional umbrellas for marketing purposes. Umbrellas bring together the best of both the worlds of branding power and practical utility, which turns these into crowd pleasing handouts.
If you are planning an outdoor promotion, here are some umbrella models to choose from.
Golf Umbrellas
Since golf is a well-played sports in the US, custom golf umbrellas will make a smart way to spread your name in the greens. Designed to last long and withstand strong winds, these value added umbrellas enjoy a long retention. So, if you have included  some golf tournaments in your corporate calendar,  these golf umbrellas will spread the word and make your event a grand success.
These high visibility  branded products will highlight the message that you're taking the promotional game very seriously. Choose from various models like wood handle umbrellas, lightning resist, fiber glass models, and full color umbrellas among others.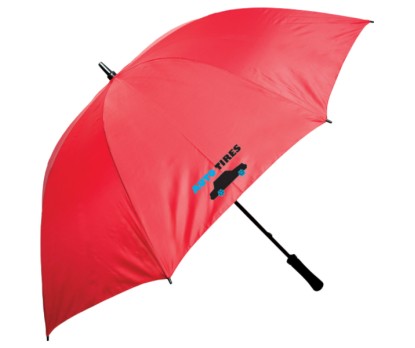 Mini  Umbrellas
Light weight, handy and designed for people on the move, mini umbrellas will create a lot of interest in your message. Easy to distribute, these medium-sized umbrellas make great handouts during milestone events and promotions and will suffice as perfect giveaways for an active audience.
Besides the unisex design and popular colors, the automatic open mechanism also makes these umbrellas a great choice. As they say, good things indeed come in small sizes and these mini umbrellas are as sturdy as other standard sized umbrellas.
Need more? browse our exhaustive collection of custom umbrellas that offer something special for every event.