How To Make Your Customized Umbrellas Absolute Crowd Pleasers – Must Read
Umbrellas are available in dime a dozen models in a palette of colors and a wide range of price rates. Matching your promotional theme and budget with the right model is what rounds off a winning promo campaign. Not all umbrellas are created alike. Here are some great custom umbrellas that will make that missing jigsaw puzzle of your marketing plan.
Take a look at these crowd pleasing models that will easily make your holiday promotions popular as never before!
Enhanced usability
Choose umbrellas with enhanced utility like inverted umbrellas, antiwind umbrellas or hands free umbrellas – to name a few . These will give everyone a reason to use your umbrella instead of any other model they may already have.
The storm proof canopy and the light weight design will make antiwind  umbrellas a great choice for customers to frequently use and flaunt your umbrella. An umbrella getting toppled over in strong winds is a common sight. Antiwind umbrellas make a reliable choice as these can withstand high winds and save your recipients from the rain and the embarrassment of having to battle with a flipped out umbrella!
The vented design plus the durable yet light weight fiber glass ribs will enable these strong umbrellas to easily recover from flipping inside out. These umbrellas keep your customers safe, and put your brand in their minds for many years.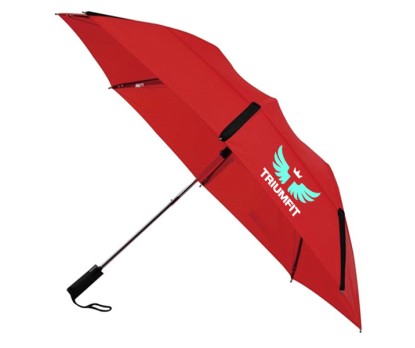 Customization
The umbrellas you choose may have a large print space that will grab easy attention. But how well you make use of this space is what makes these logo items  popular. Add branding elements like logo, punch line or artwork wisely to provide maximum brand visibility.
Size
Promotional umbrellas are available in assorted models and sizes. The standard sized personal umbrellas are ideal for all age groups and make a perfect choice to use throughout the year. Compact and easy to carry, these umbrellas are available in various delightful colors and prints and can effectively cover one user  when open.
The medium-sized umbrellas including golf umbrellas ranging 50-70 inches in diameter provide maximum protection from the elements for not just one person but two to three people. This makes it a great choice for sports marketers.
The largest umbrellas measuring 70 to 100 inches include market umbrellas and beach umbrellas. These are ideal to recreate open spaces into business zones and add a pop of color and fun to outdoor events. These massive umbrellas that are hard to overlook will effectively drive footfalls to your event.
Did you find these tips useful? Be the first to share and spread the word.