Marketing Reasons to Invest in Promotional Umbrellas Beyond Bad Weather
Custom umbrellas will promote your brand regardless of what the weather brings!  Though most people see umbrellas as only basic weather protection items, these are much more than that. Offered in a wide range of models, colors and sizes, umbrellas make a subtle way to express the hobbies, interests or even fashion sense these days.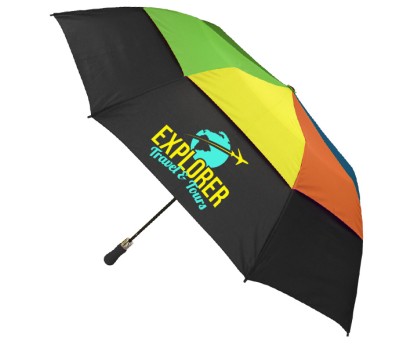 As we Americans, spend lot of time outdoors, custom umbrellas will make a perfect promotional gift that  marketers can consider to pitch their  brand right where the audience is. Apart from changing seasons, there are some really great marketing reasons to invest in Promotional Umbrellas
High Perceived Value – Umbrellas are an elite league of products that stand out from the run of the mill gifts. Designed to last long and perform seamlessly, umbrellas ensure assured ROI and consistent impressions. Add  your logo and message to make it extra special for your recipients.
Great as Incentives – Are you looking for a perfect incentive for your employees to encourage them to go the extra mile? Custom Umbrellas are excellent gift ideas that will be highly appreciated. Choose a trendy model like golf umbrellas or the sleek auto open umbrellas depending on their life style and hobbies. Just think of  the exposure your brand imprinted on the canopy of these umbrellas as they go about their daily activities outdoor.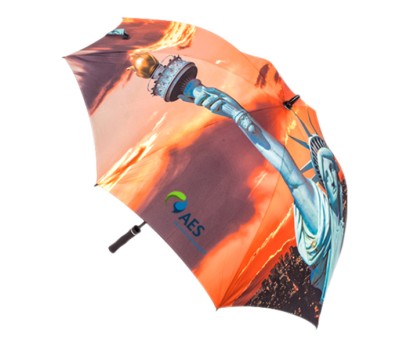 Enhanced Brand visibility – Nothing imprinted on the massive canopy of umbrellas will ever miss the attention of even the casual onlookers. Make your message interesting with a rich smattering of artwork, design and text that will engage the audience in a subtle way and reinforce your brand image in their minds.
Consistent brand impressions
According to ASI's  Ad impressions study, a custom printed umbrella will generate 1,100 impressions during its lifetime, which is indeed a lot of bang for your buck. It goes further than just making brand impressions as these giveaways have a long staying power and are retained for over a year on an average.
Big impact
Umbrellas leave a lasting statement in the minds of anyone who sees it thanks to the generous imprint space of umbrellas that will put your brand and message on a panoramic display. No matter whether your recipients are out on the streets in the sun, on the golf greens or the beach, these vibrantly colored umbrellas will draw easy eyeballs to your message.
Paradoxically, even though umbrellas make value added gifts that fare well in every promotional context,  it is often an overlooked commodity that is taken for granted for most people until  they actually need one! So, how do you plan to use logo umbrellas in your promotions? Share your thoughts with us on our instagram page.