Impact of Logo Umbrellas as Giveaways
Sustainable marketing is the norm in today's world to stand out in the competition. Marketers that wish to leave a lasting impression among the audience can consider long lasting and well retained handouts like umbrellas as their giveaways. The high perceived value of umbrellas may make some marketers think twice before investing in it. However, the long term advantage of this promotional giveaways evens off the initial investment easily.
  Listed below are the 3 notable impacts of  branded promotional umbrellas.
Good Branding Impressions
Long lasting and well retained , umbrellas make sustainable handouts that wont end up in landfills quickly. So, highlight your ecofriendly brand image while offering something incredibly functional by choosing umbrellas as your marketing tools. In addition, umbrellas create a sense of community as people see the brand as considerate. Thus, this effective promotional giveaway will leave a lasting impression.
Highest retention
Umbrellas even hold the rare credit of having 14 months of retention, which makes it  handouts with the highest retention. Just imagine the number of impressions your brand will make every time your prospects carry your custom umbrellas as they go about their outdoor activities.
Produce Brand Ambassadors
Original and high-quality gifts like umbrellas make people patronize the brand and turn them into loyal brand ambassadors. Available in various interesting ,models like inverted umbrellas and antiwind umbrellas, these custom giveaways also offer something special for everyone.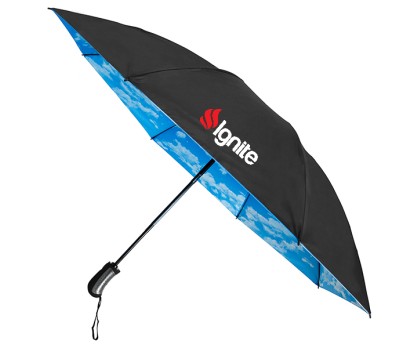 Drives Purchase Intent
Umbrellas stay highly visible out in the streets; and anyone who sees it will naturally be interested in your brand and message. It is a smart marketing strategy that is aligned to the trends in the market, and caters to the needs of the target audience. Plus, by handing out a relatable promotional product that your clients can take pride in using, your branding hits a new high.
Easy to customize
Moreover, custom umbrellas are easy to customize. Make the most of generous canopy area to position your brand, message or artwork to  make it stand out. Choose your brand's signature colors to make it truly special
Giveaways like umbrellas are not only useful for the customers but are also beneficial for the environment. So your logo will be seen by the world outside, hundreds of times to leave an indelible impression in the minds of your clients.
Custom umbrellas acquire every single one of these characteristics, making them the perfect product for your business to invest in.