October Is the Time for You To Think Pink With Custom Pink Umbrellas
Pink is the color of hope for millions of breast cancer survivors around the world including the US. October is breast cancer awareness month, which makes it a great time for business owners, non-profit organizations and health care units to spread awareness about this number one killer disease among American women. We at US Umbrellas have come up with an exclusive range of custom pink umbrellas to show our support for the cause and to hand out a powerful and thoughtful promotional item for organizations that would be planning awareness events and health events all through the month of October.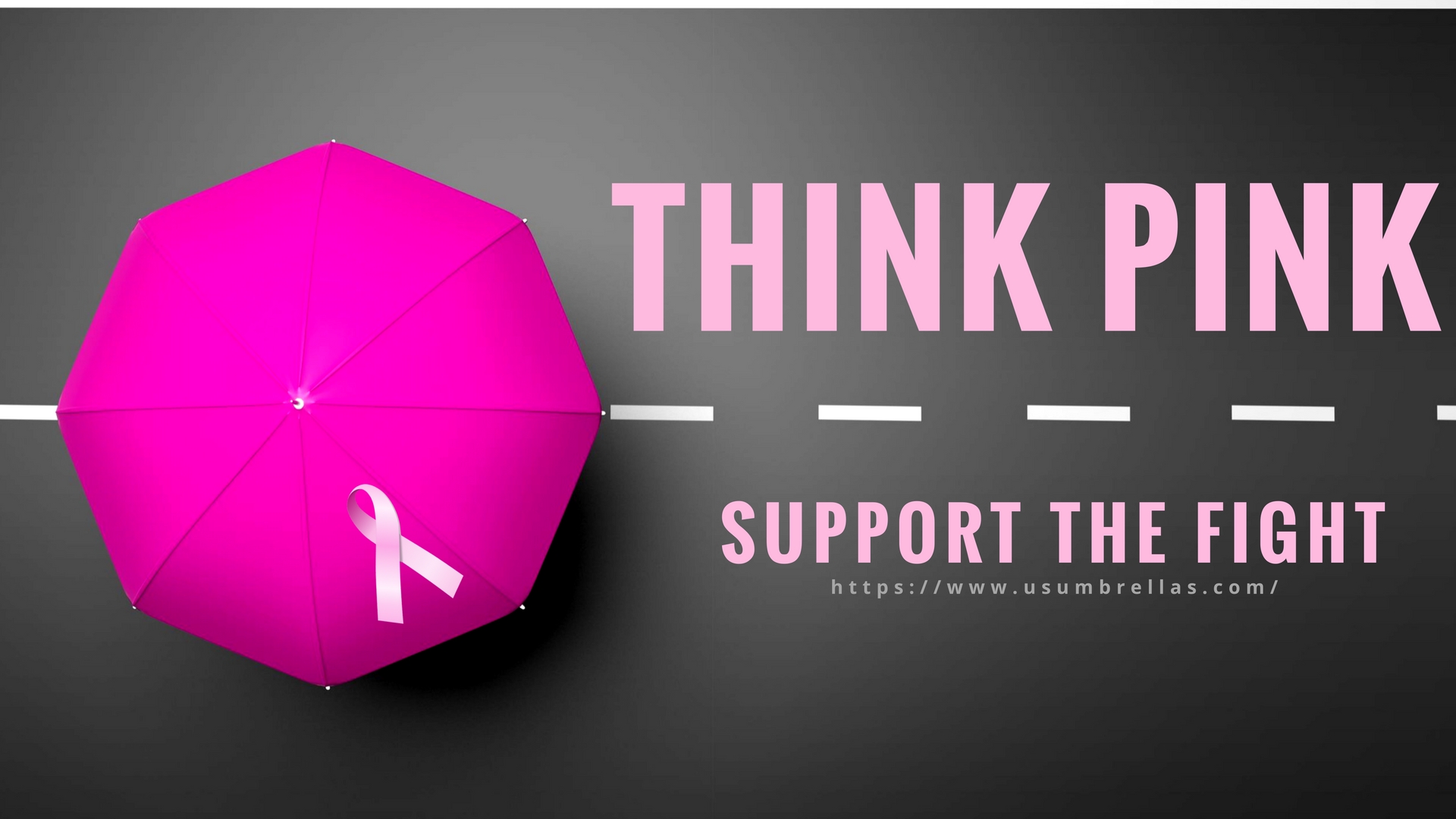 Pretty Pink has always been a symbol of womanhood and feminine charm, which means that these pink umbrellas will also make perfect party favors for weddings, bachelorette parties, birthdays and more. Pink umbrellas will enjoy a long retention as photo props, excellent fashion accessories that go well with any attire and more.
What makes umbrellas perfect for Pink awareness events?
Pink color is widely recognized with breast cancer awareness events. Promotional items in color pink thus make staples of this awareness event to express moral support for the cause and spread awareness. The generous imprint area of promotional umbrellas will make a premium real estate for you to place the message and logo and your message as an open umbrella will readily grab the attention of everyone around even from a distance. Umbrellas are daily use items that everyone needs. Durable and long lasting, personalized pink umbrellas will serve your customers long and will continue to be breast cancer awareness tokens. Get your lot of pink umbrellas right away and make your recipients feel proud to be part of this noble cause.
Now, for some top selling promotional pink umbrellas that can be considered for the breast cancer awareness events
Pink 72 inch Arc Economy Beach Umbrellas Looking for a popular gift item for your outdoor awareness event on the beach? Look no further than these economy beach umbrellas as these impressive 8 panel pink umbrella will never fail to highlight your message.
Pink 42 inch Arc Spectrum Auto- Open Folding Umbrellas: This umbrella makes a great item for bulk gifting or fund raising events. It is easily manageable within purses, bags and pockets. Women carrying this umbrella will make your awareness message stand out from the rest due to its alluring color canopy.
43 inch Wind Pink Umbrella: These wind proof umbrellas have an attractive design that features a metal shaft with a corresponding pink color handle. These make great handouts for health events, marathons and more.
Pink 37 inch Arc Deluxe Folding Umbrellas Good things come in small sizes! These custom umbrellas will enjoy a long retention thanks to its attractive color and excellent functional features including folding 5 section umbrella, 37" arc pink canopy, plastic handle, polyester canopy, aluminum frame, wrist wrap and zippered black carrying case with matching rim.
We have a lot more umbrella models in color pink. Browse and shop at your pace or should you need some selection tips and ideas, we are only a call away! If you have any quirky ways to employ these custom pink umbrellas, do share with us through blog comments.