Popular Types Of Custom Umbrellas- Must Read
Umbrellas offer a lot of options on your platter when it comes to the different models, sizes and color choices on offer.  From popular standard umbrellas to massive golf umbrellas and the innovative inverted umbrellas and more, there is something special for every need. Consider your budget and the demographics of your clients to find the best model in promotional umbrellas
Below are a few models you can choose from:
Hands- free umbrellas
Ordinary umbrellas are a handful; it will leave your hands fully occupied. However, hands free umbrellas are designed to suit the fast paced life style of the multitasking community of today. The users can slip in their hands through the ring handle and use the hands to hold purse,  phones or books easily without dropping their umbrellas. Your logo and message imprinted on these will get a lot of attention.
Auto open umbrellas
Convenient and appealing to most business class people, Auto open umbrellas are foldable, and can fit into small bags. These umbrellas travel wherever your recipients go thereby taking your message over a large distance. Folding umbrellas make good marketing tools as these will be seen by thousands of people during their lifetime.
Antiwind umbrellas
Wind-resistant umbrellas are a rage among people on the go! Afterall, who doesn't like to have a sturdy umbrella on hand that won't get tossed inside out in wind! Fortified with strong frames, antiwind umbrellas will make along lasting billboard for your brand as well. Make use of the generous imprint space to highlight your message and you would be surprised at the attention these will get during any event.
Inverted umbrellas
Wet umbrellas that leave a messy trail of rain water on the floors of your home, office or cars are a nightmare. Check out these inverted umbrellas that will close in a reverse way to hold the rainwater within its folds without spilling it all over. Choose from various prints and colors to match your promotional theme. Change the conventions of umbrellas on its head by handing out this innovative umbrella that is sure to stay here for a long time!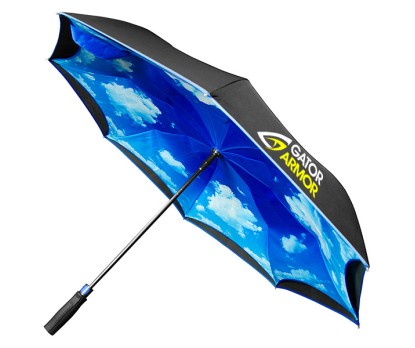 Mini Umbrellas
Simplicity is thy key! It is good to be old fashioned and simple at times in a complicated world. These manual open and close Clip Handle Compact Umbrellas have 3 section steel shaft and ribs that will make it sturdy and ideal for everyday grinds. Choose from a range of colors to impress your classic audience.
Need more? Browse along and choose a model that matches your theme