Reverse-Open Umbrellas- A Perfect Solution for The Wet Umbrella Woes
Reverse-open umbrellas are a rage today among the outdoorsy crowd. Its handy and innovative design won't leave the users drenched every time they open or close their wet umbrellas while getting in or out of a car on a rainy day.  While the traditional umbrellas leave rain water dripping on yourself, inside the car or on the floors of your home,  inverted umbrellas keep the users safe and dry.

Here are some advantages of inverted umbrellas that will be of interest to you.
Keeps you dry from start to end:  These umbrellas are designed to fold inside out so that the wet side will stay away from the body of the users as the dry inner portion will actually be the outer layer when folded.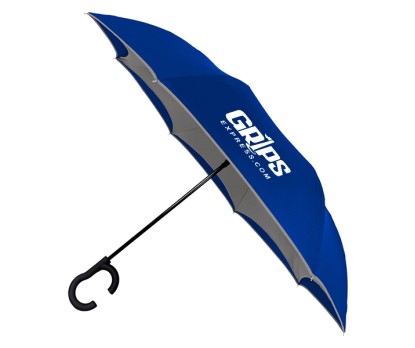 Wont spill rainwater to the floors: As it is designed to hold the rain water within its folds, these umbrellas wont leave a trail of rain water on the floors every time the users fold a rain soaked umbrellas
Withstand winds better: The double canopy/layered design won't let the canopy get folded in high winds thanks to its stronger locking system. So, if you are looking for a handout for your clients that make their lives easier, look no further than  these umbrellas.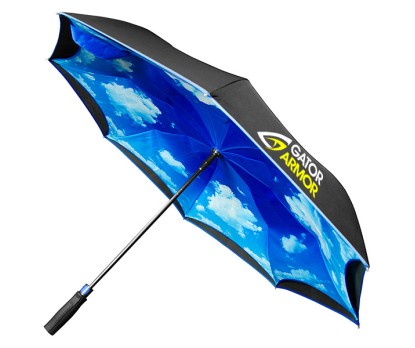 It can stand on its own. As the umbrellas get folded into a conical shape, it can be kept on the floors upright
Limitless options: Offered in a wide range of colors, prints and sizes, reverse umbrellas will easily match with any of your promotional theme and budget while  enhancing the fashion statement of your recipients as well.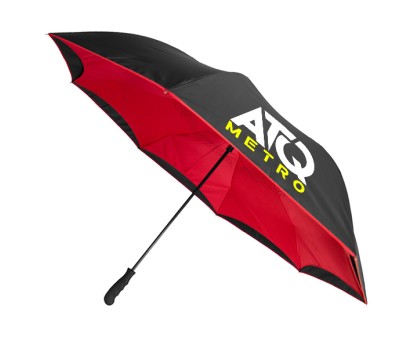 Wet umbrellas leaves you drenched virtually at every entrance and exit you'll encounter plus let the rain water pool onto the floor. Reverse umbrella is a perfect solution for the rain soaked umbrella woes. While these reliable umbrellas will make  it easier for the users to meet the challenges that a rainy day can throw at them, your brand and message imprinted on it will get the undivided attention of everyone around.
No matter whether you use these logo umbrellas as fundraisers, corporate gifts, awareness gifts or more, custom reverse umbrellas will leave a lasting impression that is hard to miss.  Designed to last long and look great this windproof layer umbrella will make a high visibility billboard for your brand and message.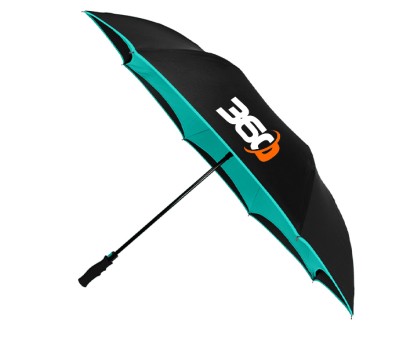 Have a better idea to use custom inverted umbrellas in your promotions? Share your thoughts with us on our facebook page