Top Tips To Choose the Best Corporate Golf Umbrellas
Businesses that have a golf playing clientele will find custom golf umbrellas a great business gift. However to impress the discerning clients you need golf umbrellas that are elegant and with high perceived value. Branded golf umbrellas are great ways to encourage golfers to consider your brand. So how do you go about finding a perfect model? Here are a few tips.
Fiber glass is a great choice
Golf umbrellas made of steel may not be a smart choice as these are heavier and hard to carry around.  Steel can bend in high wind and tends to warp permanently once they are blown inside-out.
Fiber glass is sturdy, light weight and budget friendly all at once. You clients pushing a golf buggy will find it a perfect choice. The basic idea is to provide convenience and a golf gift that they will remember you for! Striking a balance between price and performance is the right way to go about while scouting for corporate golf umbrellas.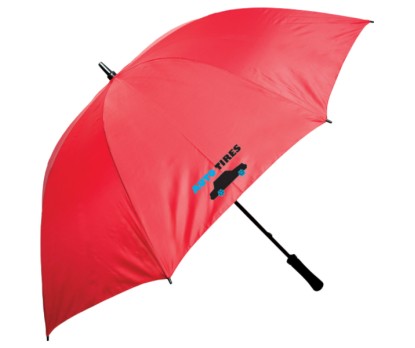 Antiwind umbrellas
Golf courses are generally windy places, so, antiwind umbrellas will make a great choice. These will let the wind pass through the vented design thereby taking off the pressure on the umbrellas and prevent it from getting blown inside out.
Players ending up with a broken umbrella can be an embarrassing sight for both the players and their fans. So, make sure to put your brand on a sturdy golf umbrella to make a meaningful connection with your audience. Hurricane umbrellas will make good option to consider. The reinforced ribs and wind protection system will make it a great choice to consider. Choose golf umbrellas that serve its intended purpose without maxing out your budget.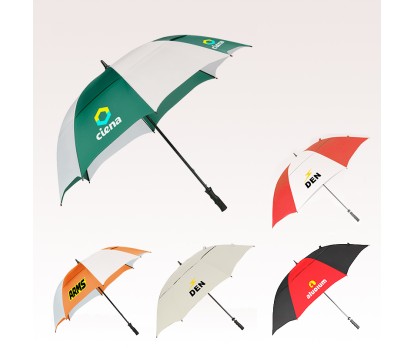 Style and substance
Keep in mind that your recipients are golfers and there is a fair chance that they may already have golf umbrellas. So, make your custom umbrellas truly unique to tempt your prospects to use it more often than the umbrellas they may already have.
Customization is the key
Choose a great design, interesting tagline or punch quotes to make your golf umbrellas the best and draw the attention of everyone on the greens. Be creative or fun if you have to – just make it unique. Make your golf umbrellas a conversation-starter without making it look out of place on the course.
Classic colors like grey, white and black are easy to match with the golf gear of the recipients. However if your logo is colorful, you can tone it down by with a clever play of colors to reduce its visual impact on the rest of the umbrella.
How do you rate the promotional potential of golf umbrellas in business campaigns? Share your ideas with us on our facebook page.