Get Your Brand Spotted This Summer With Custom Umbrellas
Custom umbrellas are value added giveaways that your recipients will find truly special. Offered in a wide range of price rates, umbrellas can be ordered in bulk without breaking the bank. With an assortment of colors and styles, you can choose a model that matches your corporate identity. Your audience will indeed  appreciate the extra thought that went into these useful accessories.
Design your umbrellas to brighten your clients' day while  putting your brand on the move! As these make great handouts for people of all ages, imprinted umbrellas ensure that your brand gets widespread exposure. Useful all year round, these logo items are sure to build brand awareness. Whether you use these popular giveaways to encourage school spirit at the next pep-rally, enhance eye protection awareness for protection, or distribute as trade show giveaway products, imprinted umbrellas will never fail to work for your brand.
UV Protection
Umbrellas play a crucial role in keeping your prospects safe from the invisible and highly dangerous UV Rays. Continuous exposure to UV rays can lead to various negative health effects including skin cancer , premature skin aging, and cataract among others. Umbrellas are available in a wide range of trending models that offer a lot of choices on your platter. From golf umbrellas to auto open umbrellas and inverted umbrellas – the list Is virtually endless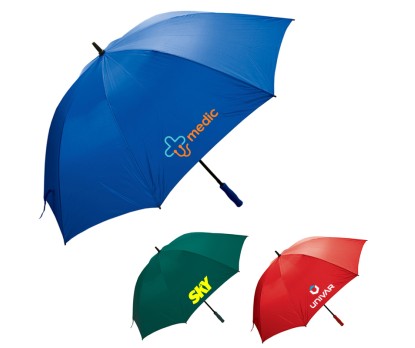 Creative
Umbrellas offer a massive canopy for imprinting your brand and message. Marketers can literally get as creative as they wish when they have these popular handouts. Whether it is your message, artwork or fun quotes, nothing imprinted on these umbrellas will ever be missed
Popular
Umbrellas are suitable for all age groups – whether you are a high end luxurious brand or a local business, you can definitely include umbrellas on your promo gift list. Since everyone needs an umbrella at some point of their life, your recipients will indeed love to have this product. Whether it is classic models like standard umbrellas, or something quirky like flashlight umbrellas or inverted umbrellas you will find all these and more in our collection.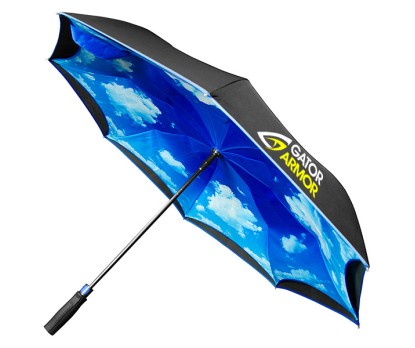 Brand visibility
Logo umbrellas are attractive handouts that will grab instant attention. Since people tend to use it more frequently, everyone who happens to walk past these open umbrellas will notice the brand and will be more aware of the brand.
Umbrellas make functional merchandise with a fashion twist that you should consider having in your upcoming marketing plans. Get inspired with similar marketing ideas by checking out  our other blogs.