Handy Tips For Choosing Custom Men's Umbrellas
Though umbrellas are gender neutral and ideal for everyone, there are some models that are more appealing to  the XY community!  Gone are the days when umbrellas used to be a must – have accessory among women. Today, men too use umbrellas regularly to stay safe from UV risks, to enhance their style or as in the case of celebrities to stay shielded from the prying eyes of the fans and media.
Men's umbrellas are essential, especially when the weather could be irregular. Custom umbrellas make a thoughtful gift for your audience plus a great way for branding purposes. Choose superior quality umbrellas that will stand the test of time. It will help your audience to align it with your brand repute.
So, if you are looking for a custom umbrella for your male audience, these tips will help you choose the best custom umbrellas that will tug their hearts easily.
Umbrella Frame:  First things first! A sturdy frame is what makes or breaks an umbrella- literally! Choose fiberglass ribs  that will ensure more flexibility and strength while keeping it low in weight.
Design and Color:  It is recommended to choose dark colors like black, navy blue etc. If you are looking for patterns an designs, Classic Checkered style and wooden hook handles  will be good options.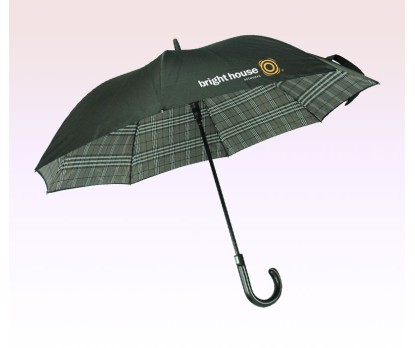 Canopy Fabric: Ideally the fabric used to make the umbrella's canopy should be water-repellent and weather proof. The material could be polyester, nylon or pongee, which will help the umbrella last longer.
Size: Umbrellas are available in various canopy sizes. Whether you are looking for a golf umbrella, standard umbrella or compact umbrellas, you can easily find the most trending models at best prices.
Ribs: The more the number of ribs more will be the stability and strength of the umbrellas. It is recommended to choose umbrellas with at least 8 ribs that will make it effective against wind and hostile weather elements effectively
Now for some models that you will find interesting. Inverted umbrellas that fold away from your body and  retain rain water within its folds without spilling it over to floors sis a great option. The unique design and the practical purpose that these umbrellas will serve will make a great choice to consider. Choose from various colors and quirky prints like the leopard print to make heads turn!
 Whether you are reaching out to a golfing community or an active crowd, antiwind umbrellas will make a great choice to consider. The vented design will keep the umbrellas withstand high winds. Your recipients will indeed thank you for choosing these high utility  umbrellas that won't get flipped inside out leaving the users a soggy mess!
 Need more? Browse our complete line of custom umbrellas and choose the bets men's umbrellas for the season!