How custom Umbrellas Leave a Long Lasting Effect Among the audience
Umbrellas of various shapes and sizes can be seen everywhere – be it at streets, trade fairs, beer gardens and shop windows, umbrellas  that pop out create an interesting spectacle . As  promotional items , these impress everyone with their high utility.
Umbrellas provide protection from rain and sun all year round and are designed for long term use. Who doesn't need an umbrella? These make reliable companions of everyone characterized by first-class functionality and the added benefit of  attractive colors and designs.
 Did you know that custom umbrellas are one of the longest retained gifts in the industry? With an average retention of 14 months and more, logo umbrellas are indeed popular handouts for business events and promotions
Printed umbrellas unobtrusively draw attention to your advertising message by keeping it always in view. Custom umbrellas ensure a very high brand recall rate for your brand because of its portability. More the distance your logo items travel with your audience more will be your brand popularity.
Limitless possibilities
Promotional umbrellas offer numerous possibilities. Whether it is to draw easy attention towards your message, enhance awareness of your fund raising event or even to flaunt your team spirit. No matter how you wish to use imprinted umbrellas, your purpose will be easily served. An umbrella can be designed as a promotional gift for almost any requirement and budget.
Tactile giveaways
Umbrellas are not just visually appealing but make tactile reminders of your business that will make a deeper connection with your audience on an emotional plane. What we can feel with our own hands convinces us instantly y and your message becomes more reliable.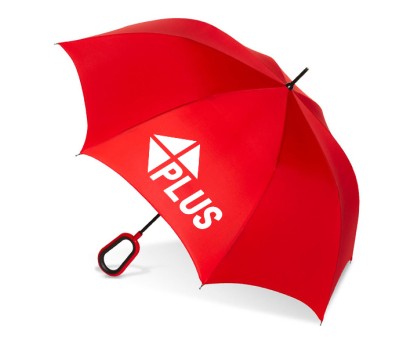 Longevity
Umbrellas are effective merchandise items with a very long lifespan. So, your brand on it will make consistent impressions at one time investment. Invest in superior quality umbrellas as your advertising medium to make a consistent impressions among your audience and long lasting usability for them.
Using a cheap umbrella to cut corners of your promotional budget may prove counterproductive for your business, Quality advertising umbrellas on the other hand get used until these are lost! In addition, it will be more valuable than many other promotional items and gets higher appreciation and a correspondingly high memory value in the recipient.
Ample customization options
The generous canopy and the massive imprint space it offers is what makes umbrellas promotional juggernauts. It doesn't mean that you have to be bold and big all the time with your advertisement.
An umbrella offers countless possibilities for advertising. From a discreet advertising in the inner panels, handle or case of the umbrella to a more striking design over one or two panels or printing over the entire surface- you can explore all options to position your message to get the desired effect
How do you plan to use custom umbrellas as your promotional swag? Share your thoughts with us on our facebook page to join an interesting conversation.